A Mistake? What?
Well, this is what the lovely reviewers at Greeting Card Universe said this card was. I put a copy in my private gallery so I could show you.
They said, "Please Note: Please change the orientation of this card. It will look to the card shoppers as though it's a mistake."
But, this is not a mistake. I created this artwork in several layers. I chose on purpose to have the bottom postcard layer facing like that. It is not a mistake at all.
Last week they tried to tell me my Araucana and my Ameraucana roosters were the same and I couldn't have both cards in the store when they are two different roosters of two different breeds. Their reviews are getting very crazy.
So I am going to be adding all new art and photography only to
Zazzle
and my other sites,
Deviantart
, and
Redbubble
from now on. There will be nothing new at my Greeting Card Universe store as soon as the 100 cards I already have in que for approvals are accepted.
Amy's Flower Shop
by
angelandspot
The best "
"business card printing
is on zazzle
Oh, and I was not allowed to sale this one on Greeting Card Universe because they said it was pornographic. I don't think it is. It is in a public park in Washington, Iowa. Zazzle has no problem with it.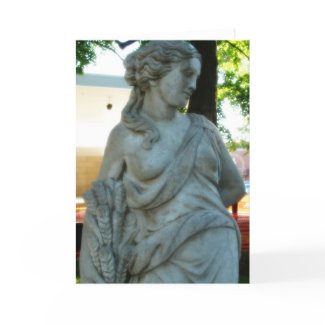 Lady Statue in the Park
by
angelandspot
See all other "
"greeting cards
at Zazzle